Ancient temple in Shanghai.
Longhua was one of 13 temples in Qinglong Town during the Song Dynasty. The pagoda was about 23 years old.
Earlier History
Edit
Legend says that Longua Pagoda was one of the 13 pagodas made in 242 AD during the Three Kingdoms Period to house cremated relics of Buddha.
Qinglong Town was established in 746 AD.
The Longhua Pagoda was constructed in 977 in the Wuyue kingdom. This kingdom continued until 978.
The temple was destroyed in a war and rebuilt in 977 AD during the Northern Song dynasty.
Later History
Edit
The Bell Tower's bell was case in 1382. A bell in the Mahavira Hall was cast in 1586 during the Ming Dynasty.
The Longhua Temple Fair started during the Ming dynasty, which has been held annually with the Cultural Revolution and the SARS outbreak being its only interruption.
During the 19th Century, Longhua temple was the site of numerous public executions.
During World War 2, the Japanese had their largest civilian internment camp in the area near the temple.
A complex-wide restoration was done in 1954.
Modern History
Edit
Today the temple is the largest, most authentic and complete ancient temple complex in Shanghai. The temple is open to the public for a fee.
Because of its age, the pagoda is fragile and is not open to the public.
Longhua Temple Web Pages
Edit
Longhua Temple In the News
Edit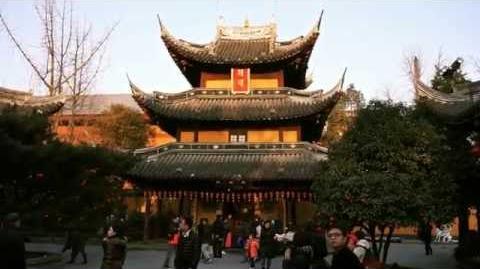 Virtual Tourism
Edit
Community content is available under
CC-BY-SA
unless otherwise noted.